Your photo editor, powered by artificial intelligence
In the simplest terms, Artificial intelligence (AI) refers to systems that mimic human intelligence to perform tasks and can iteratively improve themselves based on the information they collect.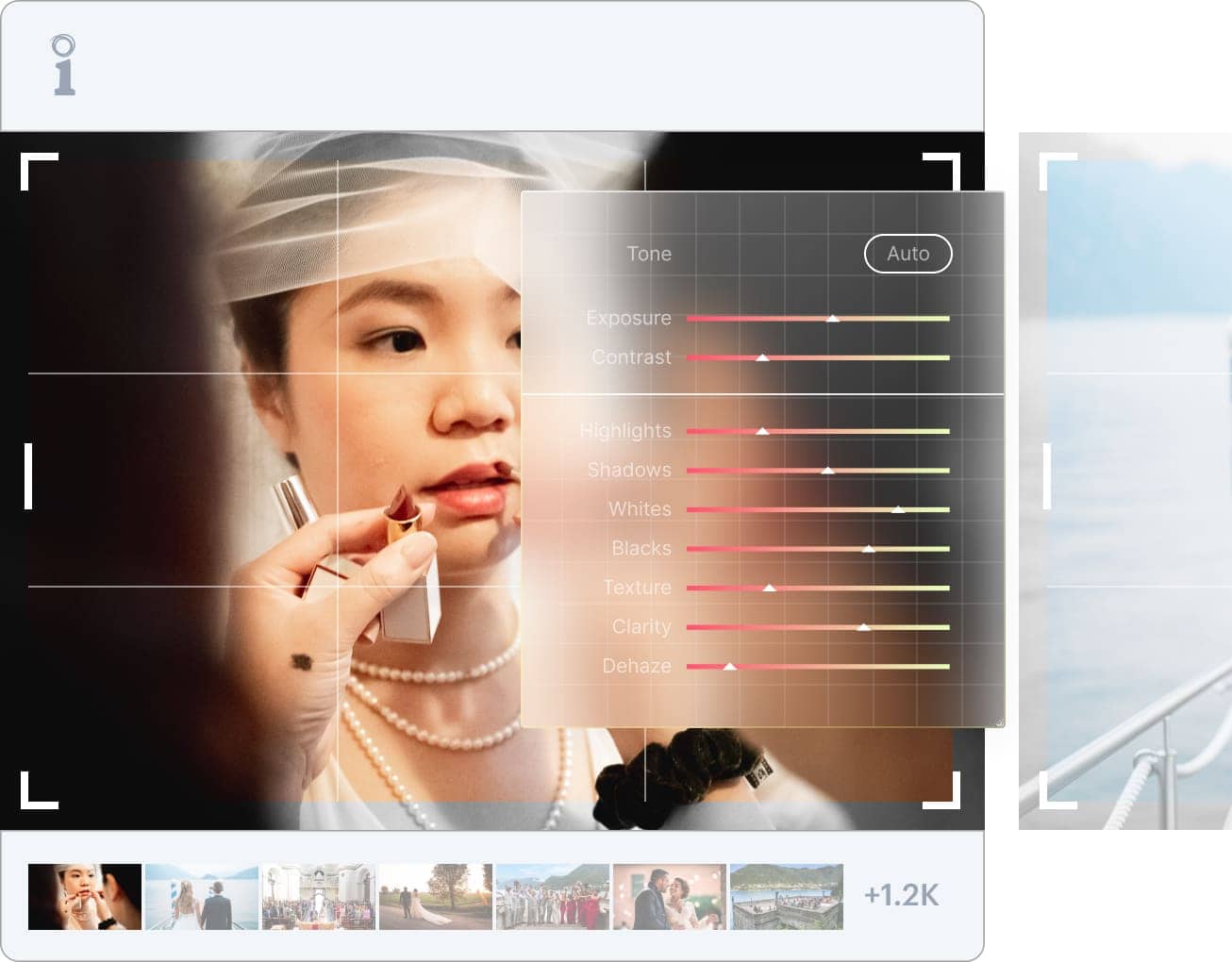 Cloud Backup
Tailored for photographers in search of a hassle-free and secure solution for storing their photos, the Imagen Cloud seamlessly and automatically handles your project backups as you cull and edit. Our optimized photos feature retains high resolution while compressing each photo by 75% when downloaded, resulting in 4X storage cost savings.
Imagen Culling BETA
Imagen leverages AI to simplify the culling phase of a photographer's workflow. Culling removes duplicate images, blinks, blurry results, or photos with poor composition. These are all set aside automatically so Imagen can work on images worthy of editing.
Imagen Supports 50+ Adobe Lightroom parameters.
TEMPERATURE
WHITE-BALANCE
LUMINANCE
SHADOWS
WHITES
HUE
DEHAZE
TEXTURE
SATURATION
EXPOSURE
VIBRANCE
And we keep adding more.
Additional AI Tools
Crop

Automatically trim or cut a photo to enhance its composition and to bring a particular subject or element into focus.

Straighten

Automatically rotates every photo according to its horizon.

Subject Mask

Automatically selects the subject in every photo and applies local adjustments to effortlessly give your subjects that extra pop.
Secure from day one
Imagen is committed to keeping your information secure and private. Your content is important to you and we take the responsibility of protecting it seriously. The details on what data we collect, how we collect it, what we do with it, how you can opt-out in, are available in our Privacy Policy, and instructions on how to retrieve and/or delete data from Imagen are available here. For peace of mind, additional security and privacy compliance documentation is available via request.
Contact support
In addition to learning each individual photographer's personal style, you can also select from handpicked TalentAI—photographers who have shared their distinct styles.
Explore our Talent AI Profiles
Want to know more? Go to Knowledge center
Exclusive
offer for the
$10K Giveaway!
START YOUR TRIAL TODAY
WITH 1,500 FREE AI EDITS
Ready to speed up
your workflow by

96%?
Maintain your unique editing style
Edit effortlessly and consistently
Explore awesome Talent AI Profiles
Focus on what you love
1,000
free AI edits.
No credit card needed.
Ready to speed up your
workflow with one of our


high-volume annual plans?
Download the app and subscribe to
discover which plan is best for you.
(Don't forget to enjoy your
1,000 free AI edits on the way)
Tell us more about yourself
Is consistent editing style important to you?